Website of John R. Corrigan, a Maine golf mystery author
Goals
To create an attractive, informative site for John's readers to learn more about the author and his writing.
Services Rendered
Web design using XHTML, Javascript, and CSS for accessibility and easy updates; graphic design, including page layout and graphic header; copy-writing.
Testimonial
"Corey White is a professional. For me, he handled the design and content creating an accessible and fun Internet location where my readers could to learn about my books and events. Any author could use his help."
-John R. Corrigan
Price Range For Similar Sites
$200 - $400
Corey White Design: Central Maine Web Design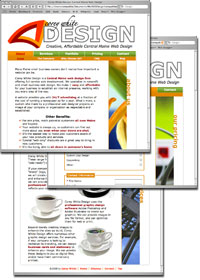 Goals
To create and market a web presence that showcases our design abilities while maintaining a clean and professional appearance.
Services Rendered
Web design using XHTML and CSS for accessibility and easy updates; customized estimate request form with server-side programming; graphic design, including page layout, logo, and custom images; copy-writing; internet marketing and search engine optimization (see our blog).
Price Range For Similar Sites
Web Design, $300 - $500; Search Engine Optimization, $100 - $150
Put your site here! Get a free estimate!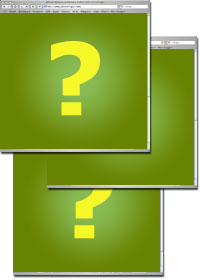 Our portfolio is a little sparse, admittedly. That's because we've just opened in the summer of 2005. This is a great opportunity for you to get first-class web design at an unbeatable price. Check out our special deals.
...At No Risk
And remember - there's no risk to you. We have no up-front charges for design. If you don't like our work, you don't pay. (Of course, we're convinced you'll like it.)